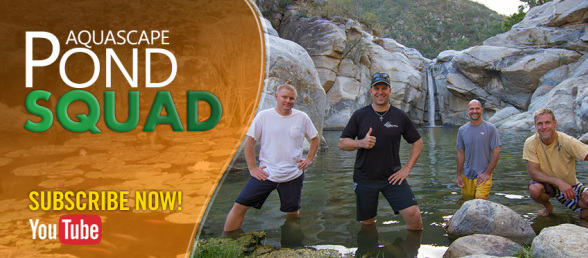 Meet The Pond Stars
Chris' Water Gardens is proud of the Aquascape team and the Pond Stars! We have known this team of amazing pond builders for several years. Greg and Ed were our primary instructors in the ways of the water garden and wonderful mentors over the years. This awesome team visited our home after a devastating fire and helped to rebuild our own pond. We have also worked with them at locations all over the country and even in Uganda, Africa.

Read more below to learn about these amazing men and how they have made a difference in the water gardening industry. We are proud to know them and have learned so much valuable information and training tools from the Aquascape Team!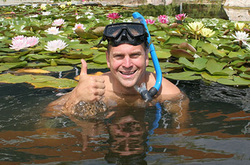 Greg Wittstock - "The Boss"
Greg, an Ohio State alumnus, is the Founder and CEO of Aquascape, Inc. located in St. Charles Illinois. Greg built his first pond when he was just 12 years old...
READ MORE
---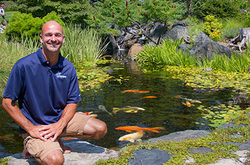 Ed Beaulieu - "The Scientist"
Ed Beaulieu, Vice President of Field Research at Aquascape, has successfully built hundreds of custom-designed ponds, from small backyard water gardens to large lakes and commercial water features.
READ MORE
---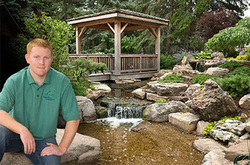 Brian Helfrich - "The Foreman"
Brian is construction manager at Aquascape and is considered to be one of the premier waterfall builders in the nation. His pond designs have been featured in numerous publications.
READ MORE
---
---

NAT GEO WILD Introduces "POND STARS" to Air on September 9, 2014
Aquascape, Inc. premiers their new show Pond Stars on Nat Geo Wild on September 9! Watch as these best professional pond builders in the US create beautiful backyard paradises! We have the honor of knowing these men, working with them and learning from them. Watch some of these early clips of the new (sure-to-be-a-hit) show!
---
VIDEOS
Watch clips of the new Pond Stars show.
New Videos Added Regularly - Check back often!
---
Pond Stars: Beyond the Pond: Upstream Exercise

The Pond Stars have to find a way to give a pond full of overweight koi a good workout.


---
Pond Stars: Beyond the Pond: Wolf Water Rescue


The Pond Stars take on the wolf enclosure at the Lincoln Zoo.


---
Pond Stars: Beyond the Pond: Getting Schooled

Pond Stars head to a local high school to help some students build an outdoor learning space.


---
Pond Stars: A Love Nest

Brian and Chris are building an ultimate love nest for one of the Lincoln Park Zoo's bird exhibits.


---
Pond Stars: Rocking and Rolling

A four thousand pound rock is pushing the equipment to the limits and the guys only have one chance to get it right.


Pond Stars: Beyond the Pond: Brown Trout Blues
The Pond Stars run into trouble looking for brown trout in California.


---
Pond Stars: A Stone Cold Lesson
Greg is upset with the guys because they didn't finish the job last night and now the hose is frozen!


---
Pond Stars: Digging it Old School
The guys have to dig a pond by hand when they encounter some underground wires.


---
Pond Stars: Pond Pranking
Pranks abound at a pond build site in Chicago.


---
Pond Stars: To Catch a Koi
In order to surprise their client with a giant koi fish, Brian and Chris go fishing.


---
Pond Stars: O-Fishally Having Fun
The guys are testing the new Koi camera and Chris has to learn to channel his "inner fish."


---
Pond Stars: It's Timber Time!
The new guy hazing may have gone too far when Chris is tasked to cut down a huge tree.


---
Pond Stars: Boulder Fail!
While building a trout pond in California, the guys learn the dangers of working with large boulders.


---
Pond Stars: A Fishy Revival
The fish transport didn't go well and the Aquascape guys have to resuscitate the Rainbow Trout back to life!


---
Pond Stars: Screeching Halt
Ed might have jinxed everyone and brought the pond less waterfall installation to a screeching halt.


---
Pond Stars: Grubbin' It!
Chris is forced to stay true to his word when the guys find a big grub for him to eat.


---
Pond Stars: Beyond the Pond: Time for Turtles
Greg is hired to do his dream project.