Contact Us
Main Office Phone and Fax: 217-896-2225
Bloomington Office: 217-493-9528
Email:
PondsDoneRight@yahoo.com
Address: 2717 C.R. 1250 N., Homer, IL 61849
Easily serving several counties from Danville, to Champaign-Urbana, to Bloomington to Decatur & Charleston and even into Indiana!
See bottom of page for a map to our location where you can view two beautiful ponds and several small features, plus pick up some aquatic plants and maybe a few koi fish to add to your own feature!
Our Affiliates
Aquascape, Inc.
Our customers are always welcome to visit Aquascape site to get more information, see new products, check the Frequently Asked Questions, learn about upcoming events, and much, much more!
Illini FS Farmtown
1509 E. University Ave, Urbana
-
Phone: 217-384-8308
Retailer of Aquascape products and host for most water gardening seminars.
Kloubec Fish Farm
We now have the opportunity to allow our customers to purchase quality and select koi fish directly from our supplier. Log on to
www.kloubeclive.com
and
enter code 10050
. Not only can you see the exact fish you'd like to purchase, but your order will be shipped directly to your door!
Growing Grounds
1600 S. Main St, Bloomington
-
Phone: 309-827-4343
As Bloomington-Normal's premier home and garden center, customers receive
the personal attention, quality and expertise they'd expect from other shops -
along with the wide selection found at major retail outlets. But it's the
unique twists you'll find at Growing Grounds that set us apart from the crowd.
Casey's Garden Shop
1505 N. Main St, Bloomington -
Phone: 309-828-1424
A family owned and operated full service florist and garden center serving Bloomington/Normal and the surrounding area since 1949. Besides a place to purchase plants and garden supplies, Casey's provides an extensive year round schedule of gardening and bonsai classes, fun family events, musical entertainment and tours for local schools
and community organizations.
IL Brick Company
3200 W. Springfield Ave, Champaign
-
Phone: 398-4300
Illinois Brick has been providing brick and masonry products to the Chicagoland Market
since 1981. They are now one of the largest independently owned and operated brick and masonry supply companies in the U.S. with 10 yards and 10 showrooms in the greater
Chicago area, offering the widest selection of brick from the largest and most respected manufacturing partners in the U.S. In addition, they carry a full line of Natural & Manufactured Stone, Masonry supplies and tools, a full line of clay pavers, Allan Block Retaining Wall and Paverlock Concrete Pavers to this division
in an effort to serve the
increasing expectations of our customers.
Cox Memorials
119 W. Orange St, Hoopeston -
Phone: 217-283-9343
Cox Memorials Boulders and Rocks is your number one provider for
memorial stones
and engraved rocks. They offer the biggest inventory of rocks and boulders in Central Illinois. Cox Memorials Boulders and Rocks also has an extensive inventory of memorials and monuments on display. They can create a custom stone engraving for pet memorials, gardens or your
business. Our rock engraving process is all done by us in-house. Our state of
the art computer controlled process and skilled professional engravers will make
an engraved stone perfect for you.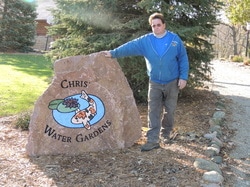 ---
In April 2006 our home of 22 years burned to the ground. We lost everything including our beautiful back pond. In May 2007 Greg Wittstock, Ed Beaulieu, Brian Helfrich and the Aquascape staff arrived to help rebuild our back pond. We are so blessed to have Aquascape as our family and friend.
A little history about us....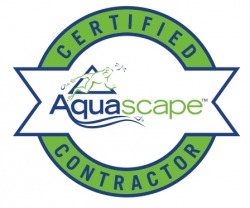 Our company started about 28 years ago and is family owned and operated. We are certified through Aquascape, Inc. as one of the first certified water garden installers in the downstate area. We attend seminars and training sessions 2-3 times each year where we network with other CAC (Certified Aquascape Contractors). In 2012 we were recognized for 10 years as a CAC. In 2014, Chris' Water Gardens became a MASTER Certified Aquascape Contractors! Recognized yearly as an Aquascape Top Frog!

Chris Sturdyvin "Pond Dude"
Chris is the owner of Chris' Water Gardens, located in the heart of central Illinois, just north of Homer. We provide services to all of central Illinois from the Indiana border to Bloomington, IL and everywhere in between. Chris' Lawn Service was originally formed in 1984 to perform regular lawn maintenance, weed control, fertilizing, aerating and trimming tree and bushes for residential and commerial properties.

In 1999 Chris began looking for a better way to serve our customers that owned water gardens. At that time, most ponds were considered complete, with barely any filtration system and were usually green, mosquito havens and not very appealing. By a stroke of destiny, Chris met Greg Wittstock, owner of Aquascape Designs in St. Charles, IL. Aquascape's system was designed to include a biological filter system that really worked! This natural water gardening system and the philosophy behind it was to work WITH Mother Nature and not against her. At first, it all sounded too good to be true. Greg told us to install our first water garden at our home and if we weren't completely satisfied he would buy the entire pond kit back! So one weekend we (Chris and Jackie) began digging, setting the liner, installing the skimmer, etc. and finally after a long weekend and lots of sweat, we had our very first 11 x 16 pond. And that was just the start!

Since then, that 11' x 16' pond has been transformed and changed too many times to count and we love it more and more. In 2005, we installed a second and larger pond in the back with a bigger waterfall, more space and more FISH! It is such a joy and we can't imagine our lives without a water garden.

In 2000 Chris' Water Gardens was formed. Since that time we have designed, installed and/or rebuilt over 300 ponds in central Illinois. Our customers have become part of our family. We enjoy visiting all of these ponds and answering questions from our customers as well as individuals in the community that have a pond or are thinking of a pond and need advice. We still maintain several lawns but our passion is now with water gardening.

Ponds Built Right, Customers Served Right

Chris Sturdyvin
Creating Paradise, One pond at a time!
---
We welcome visitors to see our ponds and small features, and can provide you with many of the products, plants or fish you want. However, we are not a retail location so please call first to ensure that someone will be available. If you are looking for a retail store, please contact our affiliates in Bloomington and Urbana (listed above).