EPISODE 5 - School of Rock
Pond fish are a must-have for this young suburban family with 2 inquisitive young boys. Only problem is … a nearby heron creates a threat to the livelihood of their prized koi. Luckily the Pond Stars cleverly incorporate fish caves into the backyard pond design to protect the koi from the dreaded bird. The result is an outdoor oasis that exceeds the family's expectations.

Also in this episode, kids love nature and this energetic group of students join in the pond-building fun with their teacher and the Pond Stars. An unused portion of school property is transformed into a 10-foot ecosystem pond with a 4-foot waterfall and 10-foot stream. This outdoor classroom provides endless opportunities for students to learn about the various aquatic life and other critters attracted to the pond.


Project Showcase Videos
Alcala Project Showcase
Witness the beautiful transformation of a less than ordinary backyard and hear from the homeowners how it has changed the way their family utilizes their outdoor living space.



Kaneland High School Project
Visit Kaneland High School in Maple Park, IL and hear from teacher Javier Martinez how their new water feature has impacted the students and teachers of the school.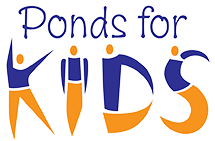 Get more information about how to initiate a Ponds for Kids Program at your local school
here
.
Aquascape Products Shown in this Episode:



Click below for a complete product breakdown for each project:





Photos and Videos Featured on Nat Geo Wild
---
Pond Pranking
Pranks abound at a pond build site in Chicago.


To Catch a Koi
In order to surprise their client with a giant koi fish, Brian and Chris go fishing.


Beyond the Pond: Getting Schooled
The Pond Stars head to a local high school to help some students build an outdoor learning space.