SEASON 2 - EPISODE 1 - TURTLE POND
Project Showcase TURTLE POND
Aqualand - Aquascape World Headquarters - St. Charles, IL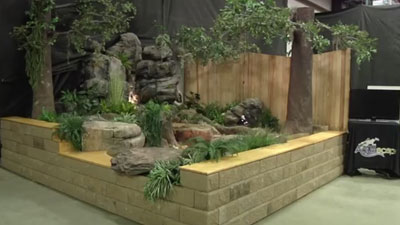 ---
The guys are challenged to renovate an old indoor turtle rescue pond with a state-of-the-art critter pond! With more rescue turtles coming to live at Aqualand, the Pond Stars need to build a larger water feature to house them all!

The big challenge to building an indoor turtle pond is to create barriers so the turtles can't escape! If they get out, they may find themselves in harm's way. Can the guys mastermind the proper design for this indoor critter pond? Watch as the Pond Stars invite a group of kids to give the final seal of approval on this watery wonderland for stray turtles.


---
---
The Aquascape rescue turtles are happy in their new indoor pond built by the Aquascape Pond Squad! You can watch them live at any time with our underwater camera.
Waterfall Rock Cam
Underwater Cam
---