FISH CARE
Here you will find helpful tips and products to keep your fish healthy and happy. Check back often for new tips & tricks added often.
If you don't fine what you're looking for,
contact us
using the
Contact Form
with your questions and we'll respond ASAP with an answer.
---
PRO TIP - Protect Your Fish
We all love our fish as if they are other pets of the family and it's difficult to lose even one. Most fish issues can be avoided by following a few simple, preventative measures:
Understand Your Water Quality
—The majority of issues are caused by poor water quality. Make sure that the fish population is under control and don't be afraid to do partial water changes often and consistently. Make sure when adding water, or when doing a partial water change, that you treat the water with
Pond Detoxifier
to eliminate chlorine/chloramines and chelate heavy metals. Aerating pond water is also something that can potentially increase water quality dramatically.
Buy Your Fish from a Responsible Dealer
—Never buy a sick fish and if possible, quarantine fish for a fish days before adding them to your pond. Always ask how long the retailer has had the fish. If they have just received them in, ask the retailer to hold the fish for a few days to make sure the fish recovers from stress related to transport and new water chemistry. All fish that are provided by Chris' Water Gardens have been shipped from a reputable dealer in Iowa so the fish are hardy to our Illinois temperatures. We also quarantine for a least a week before they are available for purchase.
Keep a Close Eye on Your Fish
—If any signs of disease are seen, start using
Pond Salt
immediately and start feeding with medicated fish food. If things look like they are getting worse, immediately treat the pond with the appropriate treatment. The longer you wait to treat the problem, the less chance you have of saving your fish. Visit our website for fish symptoms, possible problems and treatments.
Test Your Water
—Test for any signs of a problem. It is important to test the water coming directly from your tap as it is increasingly common to have issues including ammonia coming directly from your source water. Aquascape has introduced a new water treatment, Ammonia Neutralizer that detoxifies chloramine in tap water and neutralizes large concentrations of toxic ammonia.
Feed Your Fish a High-Quality Food
—Feeding a high-quality food will not affect water quality and will ensure that your fish are getting all the vitamins and nutrients they need to maintain proper health. Be sure to feed often and consistently.
Before treating any potential problem with your fish, it is important to make sure that you are using the correct treatment, dosage or treatment rate to prevent any reoccurrence.
Remember, prevention is the best cure.
The easiest way to avoid disease problems is to maintain optimum water conditions. Feeding a quality diet and adding beneficial bacteria on a regular basis will help maintain a balanced Ecosystem. Disease problems must be addressed in the early stages to be successful.
Aquascape fish foods are scientifically formulated to provide premium quality nutrition at an affordable price.
Fish, like all creatures, need food to survive. All Aquascape fish foods contain probiotics that aid in digestion, optimize growth rates and reduce fish waste. Quality ingredients, including multivitamins and stabilized vitamin C, provide superior nutrition and will not pollute pond water. Aquascape fish foods are scientifically formulated to provide all pond fish, including koi and goldfish with premium quality nutrition at an affordable price.
Floating pellet ideal for all pond fish
Keeps pond water clean and clear
Includes stabilized multivitamin
Will not break apart and cloud water
Contains high quality protein
Aquascape Premium Fish Food Pellet Sizes
​Koi Krunchies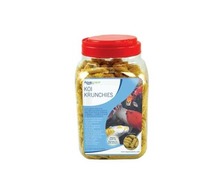 Made with Natural Citrus Flavors
Koi Krunchies are a wonderful addition to your fish's regular diet. Koi Krunchies are ideal for hand feeding goldfish, koi and other pond fish. Aquascape Koi Krunchies contain real fruit flavors and are a great source of vitamin C, which is linked to proper tissue formation, proper digestion and disease resistance.
Great for hand feeding all pond fish
Contains quality natural ingredients
Great source of vitamin C
Low waste
---
PRO TIP - How to Hand Feed Your Fish
Always feed your fish from the same place so that they start to recognize who you are and that you are about to feed them.
Make sure not to make sudden movements when hand feeding, as this may frighten koi
When hand feeding, slowly place half of the food into the pond to get the fish used to coming to the surface to feed. This will also get the fish used to the smell and taste of their new treat.
Remember, whenever offering a new food, fish need a chance to recognize new shapes and smells as something to eat. Be patient and before you know it your fish will come rushing towards you to receive their delicious Koi Krunchies treat or food!
FISH SYMPTOMS, POSSIBLE PROBLEMS, & TREATMENTS
Erratic movement, flashing or rubbing on rocks and surfaces throughout the pond

Parasite Problem

Parasite & Ich Treatment
Praziquantel Treatment
Pond Salt
---
| | | |
| --- | --- | --- |
| Growths that look like "cotton balls" | - Fungal Infection | |
---
Open wounds or ulcers

- Bacterial Infection

Ulcer & Bacterial Infection Treatment
Medicated Fish Food
---
Fins appear to be rotting away

- Fin Rot
- Bacterial Infection

Ulcer & Bacteria Infection Treatment
Medicated Fish Food
Pond Salt
---
Red streaks in the fins

- Bacterial Infection
- Parasite Problem
​- Ammonia Poisoning


Parasite & Ich Treatment
Praziquantel Treatment
Medicated Fish Food
Pond Salt and water change using Pond Detoxifier
Ammonia Neutralizer
---
Small, white spots that look like salt stuck to the body of the fish

- Ich
​- Parasite Problem


Parasite & Ich Treatment
Pond Salt
---
Gasping at the surface of the water

- Oxygen Depletion

Aerate the pond and agitate the pond surface
Reduce fish load
---
Bulging eyes

- Bacterial Infection

Ulcer & Bacterial Infection Treatment
Medicated Fish Food
---
Scales protruding from a swollen body like a pine cone

- Dropsy
- Bacterial Infection


Difficult to treat; treat the pond as a preventative measure
Ulcer & Bacterial Infection Treatment
---
| | | |
| --- | --- | --- |
| Difficulty swimming underwater floating at the surface upright | - Swim Bladder Disease | If the fish is still feeding, feed fish with canned peas or a Spirulina-based fish food |
---
Red or swollen gills

- Parasite Problem

Parasite & Ich Treatment
Praziquantel Treatment
Pond Salt
---