The Water Gardening Lifestyle!
Want Some Personalized Ideas for your own Paradise?
Send us pictures of the area you are considering or your existing feature and we will give you some great ideas and the endless possibilities to Transform your landscape into the Piece of Paradise you deserve!
Click the link above now to send pictures.
---
Inspire Your Imagination....
Water Features provide endless moments to cherish. NEW! MUST SEE!
Experience the Dream Book below and Be Inspired!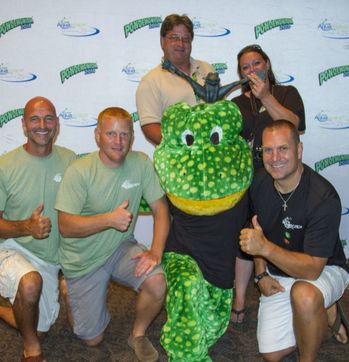 Chris' Water Gardens Aquascape Top Frog!! Ranked #13 of CAC Retailers Ranked #15 of the top 100 Certified Aquascape Contractors Click Here to see more pictures of Pondemonium 2016
Everyone Wants A Water Garden...
They Just Don't Know It Yet!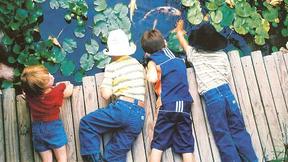 Imagine coming home from work or school and, instead of turning on the TV or playing video games, the whole family would go outside and actually talk about their day and visit as a family. Peacefully watch the fish dart among the rocks and peek out from the plants as you wait for the night blooming lilies to open. In the night life of a water garden- with underwater lights - the show never ends!

There's nothing like the feeling of having a perfect pond paradise in your own backyard and coming home from work to spend a relaxing night beside your water garden, listening to the gentle sounds of the waterfall. Owning a pond is an experience like no other!

Water features come in all shapes and sizes and are today's hottest trend in landscaping across America. High maintenance, boring expanses of lawn are being transformed into beautiful, low-maintenance water features. Every day millions of people enjoy a little piece of paradise - without leaving home!

We invite you to browse through some beautiful water gardens and imagine "a piece of paradise" in your own yard. These beautiful water features can usually be installed in just one day.


---
FREE DVD - Learn all about the water gardening lifestyle and get ideas on creating your own piece of paradise! Check out the video below!
Contact us TODAY. Click on the Contact Form , e-mail us at PondsDoneRight@yahoo.com or call us at (217) 896-2225.
---
The Aquascape Ecosystem
---
RainWater Harvesting

In 2008 Aquascape, Inc. introduced the RainXchange System. In 2009 Chris' Water Gardens participated in the Extreme Community Makeover where over 300 contractors, 28 homes in a subdivision in Sugar Grove, IL and in a one week time period installed or retrofitted current water features to become a sustainable rainwater harvesting system. Chris' Water Gardens is now a licensed Certified RainXchange Professional.

Over 27% of our household water waste is flushed or allowed to go down our drains. An average-size 400 sq ft water feature will use only 20-50 gallons a week, while washing your car can use up to 150 gallons and watering your yard can use up to 2000 gallons a week! In today's times, we are using and wasting more water than ever, and not allowing it to soak back into the earth to replenish our supply.

The RainXchange system allows the capture, filtration and resue of our most precious resource, water. A beautiful Pondless water feature, basalt columns or just about any decorative feature can be added for the added enjoyment for all. A low wattage auxiliary pump may be added to your system for use in your irrigation system, washing your car or watering your outside plants.

The RainXchange System is a REVOLUTIONARY design that combines a recirculating decorative water feature with a sub-surface rainwater harvest storage system.
Clean, Filtered Water Storage - While you enjoy the benefits of a decorative water feature, the RainXchange system filters the stored water to prevent stagnation and growth of unhealthy bacteria.
The RainXchange System reveals only a beautiful water feature that integrates easily into existing landscape.
Locating and storing the water underground maintains the integrity and beauty of your home and landscape.
Capturing and Reusing Rainwater makes Dollars and "Sense"
Reduce water bills including city storm sewer charges
Alleviate demand on muncipal systems
Avoid strict watering schedules
Better for Your Landscape than Municipally Treated Water
Rainwater is extremely rich in nutrients
Using rainwater to irrigate will reduce fertilizer use
No chemicals have been added to rainwater
---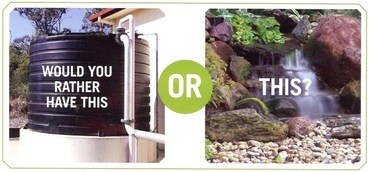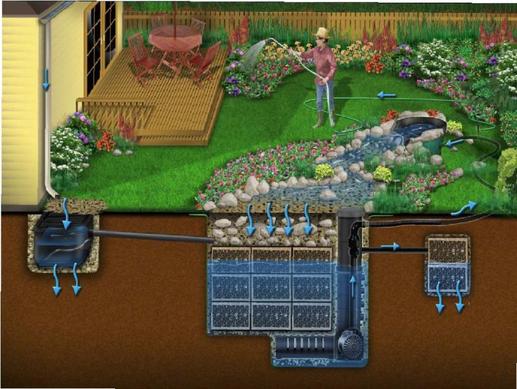 ---
Pondless® Waterfalls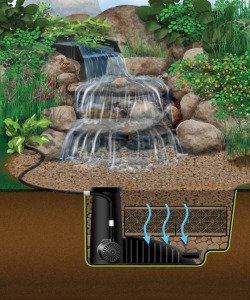 A Pondless Waterfall is basically a waterfall and stream, without the pond. If you are concerned about the safety and liabilities of having a pond or are apprehensive about taking on the responsibility of maintaining a full-fledge ecosystem, then this is the perfect water garden for YOU!

Great alternative for a front yard pond; fits in small spaces where a pond might be crowded
Perfect for public settings (ex: building entrances, children areas, etc.) where the liabilities of a pond are a concern
Virtually maintenance-free! Simply refill the resourvoir every few weeks to compensate for water loss due to evaporation
Energy efficient - no ecological need to run the system continuously
Set a timer - ideal for vacations and night/day settings
No ecosystem to worry about (fish, etc.)


The cost of a Pondless Waterfall is usually less than an ecosystem pond. With the low cost and easy maintenance, this system is an easy choice for those wanting to add some zest to their existing landscape.
---
Create a Little Piece of Paradise with a Small Feature or Fountain