Recent Customer Comments!
"I want you to know that I am so very happy with my new Pondless Waterfall! I am unable to find words to express how much I love it. You created something for and over what I could imagine!! I was ready for "No Maintenance" and this is perfect....A big thank you for being willing to take on such a small project and to work with material we already had!! Please commend your crew - those young men were so nice, very creative and professional. And they all worked HARD!! Your design blends so well into the overall landscape and I am thrilled!! So grateful and thankful for everything you did from breakdown of the old to the cleanup of the new. Thanks again!" ~J. Farmer, July 20, 2013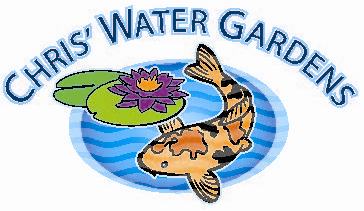 Serving Several Towns Across Several Counties!
We are happy to provide our services to many locations, helping to make your water feature the best it can be, including but not limited to the following areas:
Champaign, Urbana, Danville, Bloomington, Normal, St. Joseph, Ogden, Homer, Penfield, Rantoul, Mahomet, Mattoon, Cissna Park, Tuscola, Shelbyville, Cerro Gordo, Bismarck, Armstrong, Potomac, and even across the border in Indiana!
The Process of Installing a Water Feature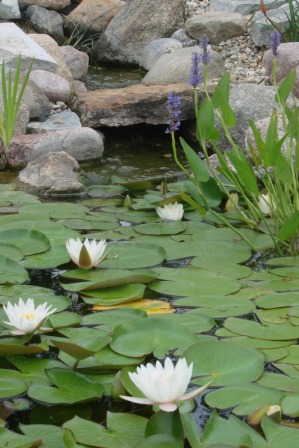 Each pond is installed with rock, gravel, aquatic lights and plants. We want the site to look like this water feature has been there for years. It needs to blend in with the natural landscape. We encourage all our water features to be as close to the house as possible. It needs to be seen from the inside of the home as well as enjoyed outside. From the summer months with the lilies blooming and dragonflies circling the plants to the ice formations on the waterfalls during January. And don't forget the nite life. With aquatic light installed in the pond as well as the waterfalls the show never ends!

We begin with an outline of the pond and stream. Then the digging begins, the skimmer is set, the underlayment and liner is set in place. We then place boulders and rocks on all the various shelves in the pond. Aquatic lights and gravel are added next. The lilies are plants right in the rocks as well as the iris, rushes and all other aquatic plants. Tropical plants can be added later during the year when temperatures are right. The waterfall and stream start to form with a series of waterfalls and curves in the stream. The finishing touches are mulch or gravel around the water feature. We can also install bushes and flowers around the pond for the total package!
---
What would you do for sense of relaxation that helps you unwind from the pressures of the day? A relaxation that calls to you from the bumper-to-bumper traffic that represents your daily commute? A relaxation that only comes with the satisfaction of knowing that you don't have to turn on a computer or answer a phone call, as long as you're in this peaceful oasis?

You don't have to spend thousands of dollars for a vacation that whisks you away from the daily pressures of life for only a week or two in order to experience this relaxation. Invite the idea of a water garden into your mind and your own backyard! Get ready to perch in your favorite chair, close your eyes and listen to the sound of the waterfall and smell the fragrant plants. Open your eyes to experience the beauty of a waterfall, transporting you to a soothing, tranquil setting that just happens to be your own backyard. Revel in the thought that your children are enjoying your personable koi fish as they suck on their toes at the side of the pond. Delight in the idea of placing unusual plants in and around your pond and watching them blossom. Enjoy the presence of wildlife all around you as frogs, birds and dragonflies buzz around your water ecosystem. It is possible to create a low-maintenance, watery paradise in your backyard. Let us show you how!
---
Pond Installation
Let Us Create A Paradise!
A fully installed water feature is similarly priced to a hot tub and can usually be installed in just one day. A well-designed water feature includes: mechanical and biological filtration, pump and plumbing, 45 mil EPDM liner and underlayment, a berm, underwater lighting, rock work, an automatic fill valve and a waterfall. Your water garden requires NO CHEMICALS, NO TEST KITS, FAR LESS MAINTENANCE, AND WILL ACTUALLY INCREASE YOUR PROPERTY VALUE!
Location and size are the two most important decisions you'll make about your water feature. By some estimates, 90 percent of the original water gardens sold are replaced later with larger ones. An enthusiastic pond hobbyist always finds new plants or interesting fish to add to his/her investment. As a general rule, a 180 square-foot or 11' x 16' pond is a good "standard" size water feature. Trace your prospective pond out on the ground with a garden hose to help you visualie what a finished size will be. We recommend that you first view the
Create a Paradise DVD
(see below) and then contact us for a consultation. During the consultation, Chris will help you create a customized water feature to fit your needs and budget.
The
Create a Paradise DVD
allows you to experience for yourself the joys of owning a water garden. With example after beautiful example, designing and locating a water feature in your yard will no longer be a mystery. Contact us for a free DVD by phone (217) 896-2225, email
PondsDoneRight@yahoo.com
or fill out the
Contact Us Form
.
---
Pond Services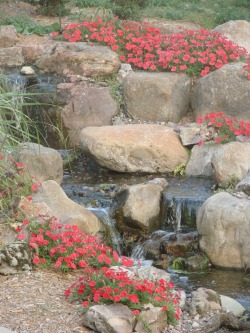 We provide year-round pond maintenance. From spring clean-outs to installing new aquatic lights, planting lilies or just about anything else you'd like - we can make your water garden a little piece of Paradise!
POND CLEAN-OUTS
Pond Clean-outs are priced based on the amount of time, which all depends on what you want. We recommend pond clean-outs be done every 1 to 2 years, depending on your pond and the fish load. A complete pond cleaning involves draining the pond, cleaning the rocks and gravel, cleaning filter mats, trimming plants and checking lights. We also check the fish for illness or sores, treat them and safely return them to their newly-cleaned home. If you are a do-it-yourselfer, see our
Pond Clean-out
page.
MAINTENANCE PACKAGES
To help you with your pond maintenance needs we now offer several different pond care packages. Each package is designed to fit every pond owner's needs and is customized to your own water feature. Keeping your pond consistant throughout the entire year allows you to come home and just relax and enjoy!
We perform general maintenance on a monthly, bi-monthly (every other week) or weekly basis. It's all up to you! Let us do the dirty work for you!
Package maintenance includes: Empty debris net/basket; Clean skimmer filter mat (as needed); Check lighting; Replace bulbs (as needed); Check pump for proper flow; Check/Adjust automatic fill valve; Trim and/or remove dead leaves/plants; Fertilize water lilies and/or lotus; Check salt level for fish health; Add Beneficial Bacteria; Add EcoBlast and S.A.B. (as needed). In the fall, we also include installing a net and heater and adding Cold Water Beneficial Bacteria.
Packages for larger ponds will be customized and extra mileage will be figured in if needed. Additional materials would be extra upon approval, such as adding rocks, gravel, additional water treatments, extra fish, extra aquatic plants, etc. Initial cost of water treatments (Bacteria, EcoBlast, S.A.B.) will be added to your first maintenance session).
Call (217) 896-2225 for more details or to set up your own personalized Maintenance Package.
Also available: Party Preparations and Pond-Sitting


SERVICE CALLS
We provide service for every water garden need, whatever it may be. If you need a light re-positioned, would like to add some plants but don't want to get in the pond yourself, or have noticed problems with your fish, we are the experts to call!
---