POND TIPS & TRICKS
Looking for advice on how to maintain your pond? We are always happy to help!
Here you'll find information about Spring Clean-outs, Fall & Winter Preparations, and how to Over-Winter your Tropical Plants. Check back often for new tips & tricks added often.
If you don't fine what you're looking for,
contact us
using the
Contact Form
with your questions and we'll respond ASAP with an answer.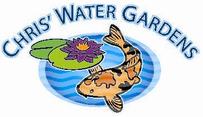 Spring Clean-outs
WHY DO YOU NEED TO CLEAN YOU POND EVERY YEAR?
Debris accumulates in the pond
Decomposed debris = Sludge and water problems = Bad for fish
& plants
Annual Clean-outs = Simulation of what occurs in natures
Following certain clean-out steps will ensure a clean, healthy pond for another season!
Clean-out FAQs
What is involved in a spring clean-out?
Drain the pond

Net the fish and place them in a safe container

Remove leaves and debris

Power wash the rocks and gravel, starting from the top and draining the dirty water

Replace or adjust rocks that have fallen or shifted

Clean filter mats and filter media (lava rock, BioBalls, etc)

Check underwater lighting

Add Pond Detoxifier and other appropriate water treatments
Inspect fish, treat as needed and return them safely to their newly-cleaned home
How much will my clean-out cost?

This is a difficult question to answer, but we try to clean your pond as cost effectively as possible. Each pond is different and has many variables that influence the time it takes to clean - such as the size, when it was last cleaned out, fish load, and season effects.
There is a minimum of $500 for all complete clean-outs. For a more personalized estimate, please send us some pictures and Chris will contact you for more details and a better estimate of the final cost.
A down-payment of half the estimated amount is required for all new customers. This secures your place on the list for as soon as possible. Click below to send pics.
When will my clean-out be completed?
As soon as the ice melts and it doesn't look like it's coming back (usually early to mid-March), we will begin clean-outs. We will group clean-outs geographically and do as many as possible in a day. We will call you a few days prior to your clean-out date if possible to let you know. Prepaid customers will be scheduled first.

Do I need to be there for the clean-out?
No, you do not need to be present during the clean-out unless you want to. If you will not be there you will need to MAKE SURE YOUR PUMP IS ACCESSIBLE, MAKE SURE YOUR OUTSIDE WATER IS ON AND A HOSE IS AVAILABLE, AND MAKE SURE YOUR OUTSIDE ELECTRICITY IS TURNED ON.

Clean-out Tips
Cleaning out a pond is a dirty job!
If you don't want to do it yourself, call us to get on the schedule as early as possible.
Spring Clean-outs begin in late February to early March, depending on the weather.
Most clean-outs begin around $500 and are priced based on time spent, which all depends on how dirty the pond is and how long it's been since it's been cleaned out.
Are you a do-it-yourself-er interested in doing your own pond clean-out?
That's great!
Here are some details about the spring clean-out process to help you along the way.
The clean-out process can be lengthy and dirty so prepare in advance.
Be sure to set aside enough time to get the clean-out done in one day, any longer will cause stress to your fish.
The steps below should give you enough detailed information to get the clean-out done as efficiently as possible, but if you have any questions, feel free to contact us.
SUPPLIES YOU WILL NEED
Container(s) to hold fish (100-300 gallons)
Fish Net
Pond Netting
Shop Vacuum (optional)
5-gallon buckets
Wading boots (optional but recommended)
Rubber gloves (optional but recommended)
Pump to drain the pond
Garden hose or pressure washer
Garden shears to trim plants
Aquatic plant fertilizer tablets
STEPS TO FOLLOW
1. Fish care
2. Plant care
3. Pond clean-out
4. Filter/Skimmer clean-out
5. Handling leaks after the clean-out
6. Filling the pond
7. Testing the water
Step 1 – Fish Care
Remove your fish from the pond using a fish net larger than your fish
Easiest to do when the water level is low. Use pump to drain water.

Chasing your fish around the pond too much causes them stress.

Plan a safe holding area for your fish – Use the existing pond water to fill container
Make provisions for aerating the water

Use air pump, bubbler or pump with a fountain nozzle.
Cover the tanks with nets to prevent fish from jumping out
Perform Pond Clean-out (Step 3)
Before returning fish to pond

Check and treat fish for disease or infections
Consider culling the fish population
Offer fish to friends with ponds
Treat new pond water with Pond Detoxifier (Dechlorinator)
Test temperature of new pond water
Acclimate fish to new pond water

If the temperature of new pond water is within five degrees of holding tanks, it's safe to return the fish to the pond.
Step 2 – Plant Care
Hardy Marginal Aquatic Plants
Trim back plants to 1-2 inches above water level (if not already done in the fall)
Feed plants accordingly with fertilizer tablets
Take the time to cull some plants, possibly dividing
Hardy Water Lilies
Trim rhizome, or tuber, back to no more than 3" to 6"
Cut back roots and leaf stems close to the rhizome and replant, if desired
Don't add tropical lilies to the pond until the water temperatures reach about 70 degrees
Split plants and replant in pot or pond
Re-locate semi-hardy plants from non-freezing place into your pond.
Step 3 – Pond Clean-Out
Drain remaining water not used for fish and plant holding tanks
Agitate gravel
Use shop vacuum to remove debris
Remove remaining debris by hand
Hose off, or pressure wash, the rock on the sides and bottom of the pond
Drain pond again
You can use a brush to clean off any remaining sludge, if needed
Take this time to re-position any disturbed rocks
Clean the filter(s) - Replace filter mats as needed
Clean or replace bio-media
Replace lava rock each spring
Pressure wash or hose off any foam on filter pads
Consider replacing any filter media if worn out (most filter mats last about 3 years)
Vacuum out any sludge accumulation on the bottom of the filter
Check connections for possible leaks – tighten all clamps
Clean the skimmer
Clean any pads or brushes
Clean and inspect debris net – replace if necessary
Remove sludge with vacuum or by hand
Step 4 – Filter & Skimmer Cleaning
Remove All mats, filters and nets
Vacuum out the bottom of the skimmer
Rinse out all mats thoroughly before returning to the skimmer
Step 5 – Handling Leaks after the Clean-out
Look for low spots in the pond and pull up the liner and back-fill the area with dirt/rock
Liner patches are available if you have a small tear or hole
Step 6 – Filling the Pond
Begin adding water back into the pond with hose
Treat water with Pond Detoxifer to remove chlorine or chloramines
Add Salt if necessary for fish health
Re-introduce fish and plants as previously suggested. Be sure to use a net that is larger than your fish.
NOTE: Your pond water will look dirty at first, but once it starts filtering through your media it will clear up and look good as new!
Step 7 – Water Testing (if desired)
If desired, you can use test strips to check pH and Ammonia levels of the water
If needed, adjust the levels with the proper water treatments
Call us for details or products
NO CLEAN-OUT NECESSARY THIS YEAR?
If you don't feel you need a spring clean-out this year, we still recommended doing a
25%-50% water change in the spring
to freshen up the pond.
Also add Detoxifier to the new water, Cold Water Bacteria as directed above, and salt if needed.
Continue adding Cold Water Bacteria twice a week for two weeks.
Then once a week every two weeks until the water temperatures are consistently 55 degrees.
Then you can begin using the regular
Beneficial Bacteria
into the summer and fall. For these essential beneficial bacterias, detoxifiers, and other products, view our
Products Page
and have them shipped directly to your door!
---
Fall & Winter Pond Preparations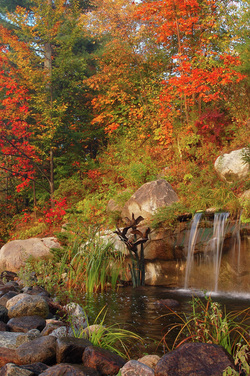 Are you ready for fall & winter? With the proper fall maintenance on your water feature, you will:
1. Ensure the long-term health of your ecosystem
2. Ensure the survival of your aquatic life over winter
3. Make for a much easier start-up in the spring!
Here is a step-by-step list of our suggestions for preparing your pond properly for the cold months ahead...
Step 1:
Remove all leaves, debris and other organic materials from the pond. Leaving this material in the pond will cause it to decompose and break down in the pond over the winter. This releases more gas into the water and if trapped beneath ice, can potentially harm your fish.
Step 2:
When the water temperature reaches 60 degrees, switch to a
Low-Temperature Fish Food
. Fish metabolism slows as the temps drop and the specially formulated cold water fish food is easier on their digestive system, and less likely to remain trapped in their bellies over the winter.
Step 3:
Also switch to
Cold Water Beneficial Bacteria
at this time and continue using it throughout the winter and into the spring. Once the temperatures warm up again in late spring, you can switch back to the regular Beneficial Bacteria.
Step 4:
When water temperatures drop to 55 degrees or below, stop feeding your fish altogether. You don't want them to have any undigested food in their bellies over the winter! If they are still hungry, they'll find food in the pond.
Step 5:
Cut back hardy plants to a few inches above the water surface. Feel free to leaves some of the taller grasses for winter appeal and contrast. You can cut these back in the spring.
Step 6:
Remove tropical aquatic plants from the pond. Tropical refers to anything in a zone higher than Zone 5. Treat these plants as annuals and discard them or move them indoors to keep over the winter. More tips on over-winterizing plants to come...
Step 7:
Decide if you want to keep the waterfall running throughout the winter or shut down the waterfall. Most, but not all, ponds can be left running all year long with very little maintenance in the winter. Plus, a winter pond provides some beautiful ice sculptures that change almost daily!
Step 7-A:
If you CLOSE your pond
, there are several steps you need to take to ensure that you pond will function properly again in the spring. First,
remove the pump
and place it in a bucket of water to be stored in a frost-free location over the winter. Also
remove all skimmer filter mats and brushes
, clean and store in a dry location. Also,
drain the BioFalls
by opening the check valve. Finally
drain the BioFalls filter mats and bio-media
, clean and store in a dry location. If you keep fish in the pond without the waterfall running during the winter, you will need a small pump to circulate the water and add oxygen, and a heater or de-icer to keep a hole in the ice to allow for gas exchange.
Step 7-B:
If you keep your pond RUNNING
, Add a
heater or de-icer
to keep a hole in the ice to allow for gas exchange. A bubbler or small pump also helps to add oxygen to the water, keeping your fish safe. The waterfall also provides oxygen and circulation to the pond. Also, keep an eye on the ice that forms to watch for ice dams. If a dam is formed, the ice can actually lead the water out and away from the pond. If this happens, simply pour hot water over the ice dam, or try to carefully break away the ice.
Step 8:
Sit back and enjoy your winter wonderland and dream of spring!
---
---
How to Keep Your Tropical Plants Over Winter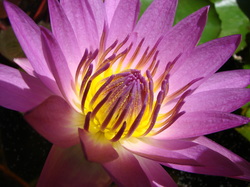 Don't you just love those tropical aquatic plants?
It is such a shame to just throw them out in the fall, after seeing all that beauty during the summer. Although somewhat time-consuming you CAN keep those gorgeous tropicals over the winter and transplant them back to your water feature next spring. Check back soon for more information as to how to do this and how to make sure they survive!
Coming soon....
Many of your marginal plants can simply be brought indoors, watered regularly and transplanted in the late spring. Water lilies go dormant and will need to be kept in a dark area, such as basement.
BANANA TREES
(Musa Basjoo)
Winter Moisture = Rot = Death of the plant
It's not the cold that kills them as much as the moisture getting into the plant.
Don't do this too early! Wait until after a light frost, or just before.
There are several methods that are successful in keeping your banana trees. No matter which method you try, the key is to keep MOISTURE OUT of the plant. It will creep down the core and into the root ball, killing the plant. Also, do NOT let the root ball freeze.
Here is a small list of a few options you can try to keep those big beautiful banana trees, so you can enjoy them again next year. There are several more options out there and feel free to let us know if you have found something that works for you!
There are some opinions that say do NOT cover with plastic, mulch, straw, wood, grass, or newspapers, because these will help to retain moisture and cause rot in the plant. On the other hand, there are several opinions that use those exact materials with great success. The choice is yours to try!
METHOD #1 - Use the leaves of the plant
Cut the mother plant down to about 6" and all the pups down to about 2".
Cover the plants with the removed leaves, creating a pile about 2' tall.
Add yard leaves as you clean up in the fall and just keep piling them up.
Remove in the spring, when there is no danger of frost, and hopefully you'll see a little green leaf beginning in the center of the plant.


METHOD #2 - Use Straw and Leaves
Cut down the plant to a stump, anywhere from 6"-12" tall
Cover heavily with straw, creating a large pile on the top and out to the sides.
The more the better (1/2 bale or more)
Place a layer of plastic over the top of the straw, allowing the sides to remain open and allow moisture to escape from the sides and bottom.
Cover the plastic layer with leaves and/or more straw.
Continue adding leaves throughout the fall as the pile settles smaller.
Uncover in April or May, when there is no danger of frost.


METHOD #2 variation - Use peat moss and mulch
Follow the same steps of cutting down the plant
Cover with peat moss
Place a tarp or plastic over this
Cover with mulch


METHOD #3 - Remove plant and store inside
Remove leaves from the plant leaving only the stalk or stem
You can either leave the stem tall or cut it back to a stump.
By leaving it tall, you can regularly check the end for moisture and rot. If you notice any, cut the plant down to remove the rot and let it dry out again.
Place a plastic bag around the root ball. Keep the root ball moist and the rest of the plant dry.
Store in a basement or garage, somewhere dry and cool and 50 degrees or less.
In April or May, you can replant it outside.


TO SEPARATE BABY PLANTS IN THE SPRING
The baby plants, called pups, should be at least 1 ft tall before separating from the mother. You can leave the pups with the mom and have a large cluster of bananas, or you can separate them to expand you banana tree empire.
Remove dirt from around the pup.
Gently cut a tiny portion of the mom's corn that is attached to the pup and remove the pup from the ground
Dig a hole about 10" deep and twice as wide as the plant.
Fill with good soil and then place the pup only about 1" deep.
Add lots of mulch around the plant, but not on the stalk. Remember: moisture on the stalk will cause rot and kill it.
OTHER TROPICAL PLANTS THAT FORM BULB, CORM OR RHIZOME
Including Elephenat Ears, Canna Lily, Calla Lilies...
Dig the bulbs before a hard freeze
Allow soil and leave to dry
Store bulbs in peat moss or sawdust in boxes at 40-50 degrees.
HIBISCUS OR OTHER TROPICAL PLANTS
· Grow as a houseplant
· Store as a dormant plant
TO GROW INDOORS AS A HOUSELPANT
Indoor plants need a lot of space and light.
Bring in the container before temperatures get below 60 and before frost.
Trim plant to manageable size, but delay sever pruning until spring.
Wash thoroughly to remove insects
place in a sunny indoor location or under fluorescent lights.
Water as needed but do not fertilize.
TO ALLOW TO GO DORMANT
Reduce watering to as needed
They will probably look terrible but will recover in the spring.
Let the leaves die back naturally
Store in a cool, dark space, about 40-50 degrees
---